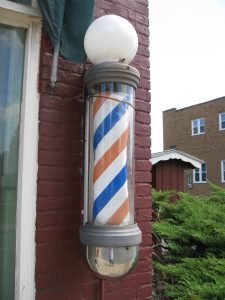 the four stages of the customer journey, it is outlined in this blog.
This week I am starting with a B2C service brand. To kick start the critique, this is my Net Promoter Score for the brand in question:
On a scale of 1- 10; 1 being the least likely and 10 being the most likely, how likely are you to recommend this brand to friends, family and colleagues?
9
If you are unfamiliar with the significance of the net promoter score, read my blog here. As a spoiler, giving a business a nine is being a promoter. Some marketers believe the NPS is the most important metric a business can measure as it clearly indicates continuance of the relationship and intent for next purchase.
So who am I giving a nine to? Well, it is a barber shop. The reason I gave nine instead of ten is because I realize with this shop's hipster flair it would not be for everyone, but it is damn good and I promote this barber shop often. To be honest that struck me as odd, and let me tell you why.
I reflected on where I had gotten my hair cut over the years. It has never been a where, but a who. Over the years I have developed a personal relationship with everyone who has cut my hair and followed them from location to location. The where (brand) did not matter but the who did. For instance, my first barber cut my hair in my home town since I was three and when I moved away from Thompson to Winnipeg for university, he relocated to where I was. And so he continued to cut my hair until I left Winnipeg. This pattern continued right up to my last stylist in Saskatoon who introduced me to my wife! She changed salons, I followed and even continued to get my hair cut by her when Saskatoon was no longer where I lived full time. When she left the business I needed a new person to cut my hair. I never once thought that I needed a new place to get my hair cut. But that has now changed. And that is why being a promoter of a barber shop is odd to me. They are so good they overcame this built-in bias I had.
The brand was able to supplant this previous relationship with the barber/stylist. I have gotten my hair cut by no less than six people in three years at this location. For me it is now the where, not the who. How did this happen? How did a brand develop a relationship with me in an industry that traditionally develops tight one-on-one relationships and not brand to customer relationships. They did this by creating an amazing customer journey and recognizing the lifetime value of their best customers.
A typical Customer Journey with my barber shop:
Stage One – Stimulus
I was introduced to this brand by word of mouth but their website was easy to use and I booked online. They were recommended, I needed a hair cut – done.
Stage Two – The sales process
This shop has created a mix of a modern look with an old time barber shop feel. I find myself entertained just by looking around at the décor. But when you begin to walk up to the counter the magic really starts to happen. Everyone in the location is genuinely friendly, personally friendly….they all seem to know your name. To create this "magic" it is clear to me they have invested in two things:
1) A simple CRM (customer relationship management)/booking system
2) Customer Service Training or time building a customer focused culture.
These investments create the following outcomes. No less than two staff will say hello to you using your name before you sit down and wait. This makes me feel welcomed and I feel they care about who I am. I cannot recall another salon or barber shop that consistently used my first name by anyone one else other than the person cutting my hair, at this barber shop a minimum of six different staff members have said hello to me using my first name.
They run a tight ship. The hair cut process is efficient and always on time and as such they enforce a strict no show policy that is executed without compromise but comes across with consideration. This is how they do it: A reminder email and phone call occurs prior to each appointment just double checking that time still works for you. If you are not there five minutes prior to your appointment they call to ensure you can still make it on time. So they remind you enough times you understand that if you are late it is clearly your fault and they have done everything they could to help you be on time. If you are too late you get bumped because they will not punish the next customer because you cannot show up on time. I appreciate this because I never get told they are running behind. I walk in, sit down…often right in the barber chair and get my hair cut efficiently, well done and friendly.
Stage Three – The after sales process
When your haircut is complete you are walked over to the counter to pay. You are asked genuinely if the hair cut turned out the way you wanted. There is a product up-sell and the next appointment is booked. They thank you for your business and often several people wave goodbye or say "See you Steve!" or "Have a good day!" I walk out feeling great after every cut because of how I have been treated.
Stage Four – Retention and Referral
Their outstanding service creates referrals but they have never asked if I knew anyone that could use their services, nor do they utilize automated continual customer contact. They do have a prepaid program that is nice because by prepaying they provide a discount. This is a clearly smart retention, as the brand gets a commitment from the customer for up to a year that guarantees return business or amazing ROI on unused services.
Conclusion
Overall a great customer experience (I did give this brand a 9!) that takes no more than a little bit of creative décor, a decent CRM/booking software, disciplined processes and a staff that genuinely tries to know, be friendly and courteous to all clients not just the client whose hair they cut.
Steve Whittington is President of Roadmap Agency Inc. He has also served for over a decade as a member of the Executive Team of Flaman Group of Companies an award-winning organization and has over 25 years of executive experience. Steve's current board work includes serving as; President of Glenora Child Care Society; and Co-Chair of the Marketing Program Advisory Committee for NAIT's JR Shaw School of Business. Previous notable board work included, Chair of the board for Flaman Fitness Canada, a national retailer, a Director for a meal prep internet Startup Mealife and Chair of Lethbridge Housing authority, the third-largest Social housing NGO in Alberta.
Academically, Steve was an instructor of Project Management at Lethbridge College for seven years. Steve holds a Bachelor of Commerce Honours degree; he is a Certified Sales Professional (CSP), Project Management Professional (PMP), Certified Marketing Specialist (CMS) and (CCXP) Certified Customer Experience Professional.
Steve's first book Thriving in the Customer Age – 8 Key Metrics to Transform your Business Results teaches about the customer journey and provides a guiding framework spanning all stages of the customer experience. The book explains how every metric impacts an organization and how leaders can best utilize each metric to provide a stellar customer experience. Everyone knows the customer is the most important part of a business. This book provides the tools to improve an organization's customer experience and drastically transform business results.
Recently Steve's Blog has been profiled as one of the Top 75 Customer Experience blogs