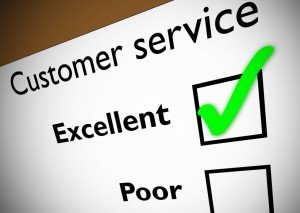 Imagine a world in which your customers are so excited after shopping at your organization that they rush out to tell their friends and family. If this happened with every one of your customers you wouldn't need to spend a dollar on advertising because all your advertising would be done for you. (Well, this is a little bit of an exaggeration but you get the point).
Sales would sky rocket; earnings would double; staff, stakeholders and obviously customers would all be happier. This is not a fantasy world, this can be achieved by managing a rating by customers from one simple question " How likely are you to recommend?" It is called the Net Promoter Score.
"This metric creates a simple scorecard for the organization that has been shown by Bain & Company research, as well as research by a growing number of unaffiliated experts and executives, to explain significant variations in revenue growth rates among companies in head-to-head competition. In Bain & Company research, differences in relative competitive Net Promoter Scores explain anywhere from 10% to 70% of the variation in subsequent revenue growth rates among direct competitors. The Net Promoter® leader in a market grows, on average, more than two times faster than its competitors in that market." -Bain and Company
Hmmm… powerful words with more available on their loyalty blog.
If you do not know what the Net Promoter System is, it is a system that generates a rating to gauge customer loyalty. It is blindingly simple. Based on the rating that a customer gives when asked the question "How likely are you to recommend". Customers are then categorized into three groups: promoters, passives and detractors. The score is simply promoters minus detractors.

So you get a number? So what?
What gets measured get managed, what gets managed well gets improved. By having an objective number and system in place to capture customer feedback you now know how you are doing and you can measure objective improvement moving forward. All organizations want to improve and grow. While sales and earnings are the ultimate measure of growth, having a high NPS has been proven to accelerate growth. So why not give sales a boast by managing your organization towards an amazing customer experience to multiply that speed?
Learn more about the how the Net Promoter System is calculated and if you shop at Flaman Group of Companies expect to be asked: "How likely you are to recommend us to friends or family?"
Steve Whittington is President of Roadmap Agency Inc. He has also served for over a decade as a member of the Executive Team of Flaman Group of Companies an award-winning organization and has over 25 years of executive experience. Steve's current board work includes serving as; President of Glenora Child Care Society; and Co-Chair of the Marketing Program Advisory Committee for NAIT's JR Shaw School of Business. Previous notable board work included, Chair of the board for Flaman Fitness Canada, a national retailer, a Director for a meal prep internet Startup Mealife and Chair of Lethbridge Housing authority, the third-largest Social housing NGO in Alberta.
Academically, Steve was an instructor of Project Management at Lethbridge College for seven years. Steve holds a Bachelor of Commerce Honours degree; he is a Certified Sales Professional (CSP), Project Management Professional (PMP), Certified Marketing Specialist (CMS) and (CCXP) Certified Customer Experience Professional.
Steve's first book Thriving in the Customer Age – 8 Key Metrics to Transform your Business Results teaches about the customer journey and provides a guiding framework spanning all stages of the customer experience. The book explains how every metric impacts an organization and how leaders can best utilize each metric to provide a stellar customer experience. Everyone knows the customer is the most important part of a business. This book provides the tools to improve an organization's customer experience and drastically transform business results.
Recently Steve's Blog has been profiled as one of the Top 75 Customer Experience blogs