I'm Steve Whittington
Robert Stephens said, "Advertising is the tax you pay for being unremarkable". He is not wrong, to avoid paying that tax organizations need to focus on creating remarkable customer experiences that create remarkable ROI. Today as I look at the overall B2C, B2B and B2A landscape, I see organizations failing to meet customer expectations. The list of storied brands shutting down is enormous.
Beyond the obvious, the reasons for this are many: customers can now educate themselves independently of information most in-store or in-house representatives provide, a brand is limited by the products or services they offer, while a customer may want alternatives that are available instantly online. Overwhelming, however, is the fact that brands have not pivoted to provide the experience required to thrive in this next normal.
For retail specifically, pre-COVID-19 the store itself was already inconvenient; customers needed travel to a location on their own time, often off-route. Now physical interactions are truncated and SafeX driven (as they should be) as opposed to solving a need.
Layer on top of this that prior COVID-19 average customer service at best was the norm, it is easy to understand why customers are supporting brands that provide a remarkable omnichannel experience that doesn't require a lot of "at the location" time in ever-increasing numbers. The fact is that customers always wanted their time respected and the process streamlined. Brands just refused to go there until forced. The current dominance of e-commerce will abide, but not to the way it was, but to the next normal.
Retail and service aren't doomed, they are just transforming.
From the outside, the answer seems clear: Become a digital experience first, brand, no matter what you do. Online brands have always been obsessively focused on the customer experience, but they also realized the best customer experience can still be achieved in person as part of an omnichannel ecosystem; hence these digital brands such as UNTUCKit and Warby Parker, opening physical locations. This understanding has allowed them to bring their online customer experience mastery into the physical world.
For organizations to navigate this disruption, there is only one option: Obsessive focus on your customers and the customer journey your organization provides. Organizations must map and measure the entire customer journey to understand it from the customer's point of view. Only with this understanding, with measurement of all steps in the journey, do brands have an opportunity to improve their customer experience and thus their business results.
The path is clear: Becoming customer-centric = becoming data-centric; becoming customer-centric = being profit-centric.
That is the capacity I seek to help organizations build.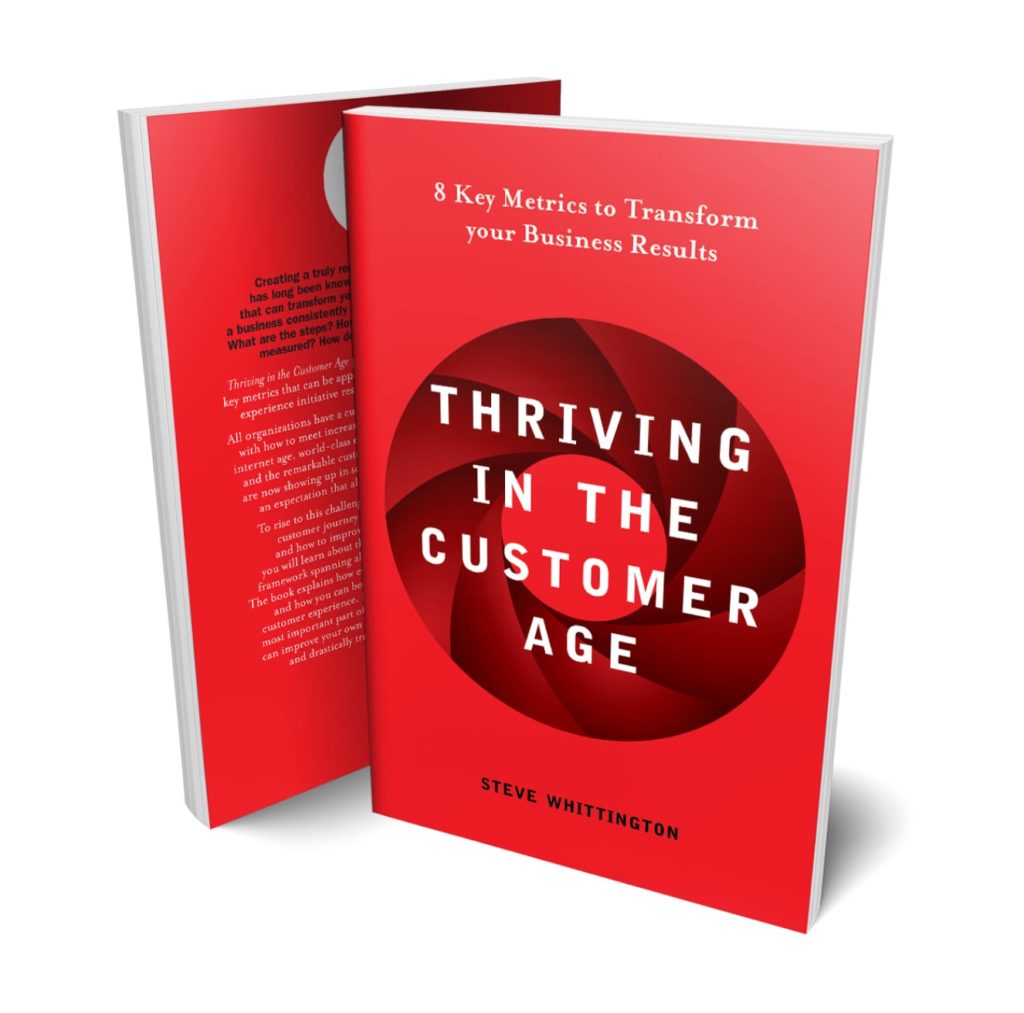 Thriving in the Customer Age
Creating a truly remarkable customer experience has long been known as the competitive advantage that can transform your business results. But how does a business consistently provide this high-quality experience? What are the steps? How is a customer experience initiative measured? How does it improve the bottom line?
Thriving in the Customer Age provides a simple framework with eight key metrics that can be applied and used to measure your customer experience initiative results, tied directly to the bottom line.

How I have arrived to this point has been a mix of a conventional and unconventional career.
I started as an Initial Attack Forest Fighter and then became a dot com kid from 1998 – 2000 crashing like 99.99 % of all dot com kids from that era. From there I pivoted to a web development marketing agency that provided the opportunity to serve clients across Western Canada, and as a result of working closely with clients I eventually joined one; Southland Trailer Corp, as a member of the senior management team. That executive position eventually led to an executive position at Flaman Group of Companies.
Alongside this traditional path, I have served on non -profit, NGO boards and privately held advisory boards as well as developed a side career teaching Project Management and professionally speaking on leadership and the customer journey. Additionally, in 2013 I invested in Graphic Intuitions a web development/marketing firm eventually becoming the Managing Director with two extremely talented partners.
Since the age of 24 I have been in a senior leadership position. Companies I have served have received many awards, the lessons I have learned in my 20+ years of senior management experience are many, but at the end of the day when the businesses I have been leading have struggled, it was always due to a lack of understanding or loss of focus for the customer and customer needs.
Today I am an entrepreneur, serving my organization Graphic Intuitions as the Managing Director. I am also a professional board director, author, speaker and passionate about helping organizations build customer-centric capacity.

When the suit jacket comes off you will find me hanging out with my wife and three kids or from time to time with a bunch of van-life climbers. I have a passion for climbing in all its forms: rock climbing, ice climbing, alpine-style climbing or traditional mountaineering. I have led teams to the tops of many mountains having summitted 50 to date, including 5 of the 7 summits of the world, most notably Mount Everest in 2013. (For more about Everest visit my other site thequestforeverest.com)
I believe the clarity and focus achieved through climbing has had a direct impact on my leadership capacity in business. However, in business, there are some mountains without a top…you just have to keep focused on climbing higher, faster and better.
If you have made it all the way to the bottom of the page, your awesome for taking an interest. Let's connect!