Happy New Year!
I have stayed away from your inbox for a while. Partly because this past fall, as anticipated, was a season of change and turmoil. I felt another pundit did not need to fill your inbox.
Additionally, I focused on an organization transformation; the organization I have been part of in the background for over six years. It was only this past year, right at the start of the pandemic, that I began an active role in the business leadership.
Well, as we all know 2020 has been a ride, and this is what I wish to share:
A Rebrand Story
At the start of this year, my organization engaged in strategic work that started with customer listening and understanding. We conducted in-depth interviews and surveys to understand our customers, and through this work, it became clear in order to serve the growing needs of our clients, we needed to evolve our brand and services. We needed the ability to serve our client's total marketing, sales and service needs.
This includes:
Strategy
Market Research
Branding
Marketing Plans
Inbound Digital Marketing Services
Content Creation and Execution
Web Design and Development
Customer Experience
Technology Platform Implementation
Consulting and Education
Essentially a complete offering of services and technology that gives the client customized solutions to fuel growth and optimize their business.
Part of this work included a renaming and rebrand of the business from Graphic Intuitions to Roadmap and becoming this new brand with a new purpose.
The purpose of our new entity is to discover potential with clients and inspire better business.
We do that by fully understanding the business's challenges, opportunities and customer pain points to create solutions that drive meaningful change within the organization.
From this vision, the name Roadmap was created and reflects how we take clients from point A to B. The wordmark was inspired by Canadian road signs and nature. It is a nod to our country of origin and our roots in the outdoors while keeping a sense of organization and structure. The icon, an "R" monogram, takes the shape of a road.

Another big part of accomplishing this strategic shift with identified new capabilities was adding those capabilities to the organization.
This was done in part through hiring and through a merger with the creative agency Hewlko Creative Direction + Design
All this is starting now! My new role will be President of Roadmap Agency Inc. www.weareroadmap.com
So what does this mean to you, constant reader? If you are here for the content, I will continue to blog and produce content. With the rebrand and merger complete, it will go back to the regular pace. If you need more support, I now have an organization behind me that is customer-centric in deploying the tools organizations need to thrive in today's digital-first customer age.
The theme of this newsletter is changing, so it seems appropriate that I would share two articles on change:
Eight Charts that show how COVID-19 has changed B2B Sales forever
5 Behaviors of Leaders who embrace change
As always, I am here to help. Reach out if you would like to learn more.
-Steve
Eight Charts that show how COVID-19 has changed B2B Sales forever
Over 70% of today's B2B buyers prefer the digital sales model, which has dominated since the pandemic started. It is now is blindingly clear from McKinsey's recent report that the pandemic has altered behaviours:
Buyers prefer Digital selling: Digital Self Serve over traditional methods 70-80%
Sellers overwhelmingly (average 75% for all nations polled) believe the new model is as effective or more effective.
70% of B2B decision-makers say they are open to making new, fully self-
serve or remote purchases in excess of $50,000, and 27 percent would spend more than $500,000.
Remote Engagement successfully supports selling and prospecting, with 75% agreeing that it is as effective or more effective for existing customers and prospecting new customers.
Overall, 89% of companies expect this digital sales go to market model is here to stick.
Accordingly, over 40% of companies expect to increase their CAPEX and OPEX to support this model.
Digital Transformation to support your sales model is clearly needed for all B2B organizations. The question is, are you a leader or a laggard?
More insights in the article (4-minute read) here
5 Behaviors of Leaders who embrace change
In today's world of constant change, reviewing five leaders' behaviours to be successful change agents is worth the reminder.
According to Edith Onderick-Harvey, a change management consultant, these five behaviours create culture shifts that increase change agility when used in concert with each other.
Share a compelling, clear purpose.
Look Ahead and see the opportunity.
Seek out what is not working
Promote calculated risk-taking and experimentation
Look for boundary-spanning partnerships.
How often are you as a leader regularly exhibiting these behaviours?

The article started with alarming failure rates of Mergers and Acquisitions. Considering the recent strategic shift I have led my organization into; I have read this article a few times.
Dive deeper into the article (5-minute read) here
What I am Currently Reading and Why
Since the last newsletter, I have chewed through a thick tome about the Hudson's Bay Company called:
The Company: The rise and fall of the Hudson's Bay Empire Empire
-Stephen Bown
A great read if you enjoy the fur trade's ins and outs, which really made Western Canada what it is today (for better or worse).
After that heavy read, I turned my attention to a book about strategy, which, to be honest, has become an obsession.
Playing to Win: How Strategy Really Works
-A.G Lafley, Roger L. Martin
When I read Good to Great by Jim Collins, I was in simple awe. This book, while not as profound, will perhaps be more impactful. It is a simple playbook of how to create a winning strategy as told through the lens of P&G. What is profound to me is the simplicity of the process. However, to execute well, there is a nuanced complexity required. (Nothing worth doing is easy). I fully intend to deploy this process for my organization in the coming months as we gather to refine our strategy.
---
Downloads Available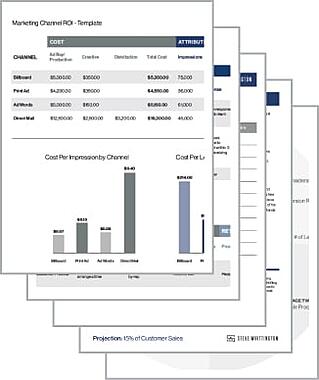 Whether you are looking to map your customer journey, build customer profiles, set goals or conduct marketing channel ROI, check out the expanding set of tools available: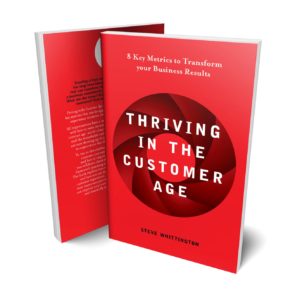 Steve's first book Thriving in the Customer Age – 8 Key Metrics to Transform your Business Results teaches about the customer journey and provides a guiding framework spanning all stages of the customer experience. The book explains how every metric impacts an organization and how leaders can utilize each metric to create continuous improvement in their customer experience. Everyone knows the customer is the most important part of a business. This book provides the tools to improve an organization's customer experience and drastically transform business results.
---
If you are looking to take your customer experience to the next level let's connect!