Hello Constant Reader,
The dog days of summer have come and gone (and in the far north, hints of fall are appearing), it certainly felt like the original meaning of the dog days of summer.
"The dog days or dog days of summer are the hot, sultry days of summer. They were historically ….. connected with heat, drought, sudden thunderstorms, lethargy, fever, mad dogs, and bad luck."
As opposed to colloquialism that many people believe the phrase "dog days of summer" stems from the fact that dogs tend to be a bit on the lazy side during the hottest days of summer.
Well, it was a mad time. And I suspect it will continue to be a wild ride for months to come. During this time, things have changed, and trends have solidified with yet more change to come.
What do we know:
The recovery will be slow and long. Just Friday the 28th, the official numbers for Q2 in Canada were released. Canada's gross domestic product shrank by 11.5 percent in the three-month period between April and June. As dramatic as that drop is and media is playing with numbers as posted by CBC "That's a 38.7 percent pace of contraction for the year as a whole, far and away the steepest and fastest decline on records that date back to 1961."
The headline isn't the story. Recovery is occurring, but it will take time to get back to Pre-COVID numbers. That said, retail sales have recovered with a 23% jump in June, although it is suspected that this is a spike due to pent-up demand instead of full recovery.
Brian DePratto at TD Bank was cautiously optimistic about the forecast. "As significant as the damage was, it was largely contained to March and April," he said. "We may be through the worst of it, but it is still a long road to normal."
We have had a recession, but not yet a depression. It is, however, too early to tell. Sobering thoughts on this here.
Dips and blips do not change behaviours, but structural changes do.
We are in the midst of a structural change; our behaviours have altered and will remain altered:
There will be more work from home.
Consumers have moved even more online.
Organizations have responded with increased digital investment, and as a result, digital innovation has intensified.
Businesses have come to embrace that you do not need to be face to face to create meaningful connections or a remarkable customer experience. With the increase in digital investment, there has been an increased focus on enhancing the digital customer experience.
All this equals a new way of being for organizations and the experience they provide. With less face-to-face time, relationships will need to be built in new ways, and experiences will need to be digitally seamless, focused obsessively on customer needs (their jobs to be done), build loyalty, and be remarkably memorable.
A tall order for many organizations that were not making this shift prior, but not impossible.
As always, I am here to help, and in keeping with the theme above, I have compiled additional resources for consideration that focus on digital transformation.
This month's roundup includes:
Five phases needed to enhance your digital dxperience (two minute read)
Consumer sentiment and behaviour changes in the COVID-19 crisis (five minute read)
How six companies are using technology and data to transform themselves (11 minute read)
What I am currently reading and why
My hope is you can use these resources to help you navigate the way forward for your organization.
Stay well,
-Steve
Five Phases Needed to Enhance Your Digital Experience
Your digital experience has always been the first experience you provide to new customers, even returning customers that require reactivation. With the recent closing of the economy, many brands reviewed their online presence in detail as face to face was no longer an option. Some were shocked at the neglected state of this vital area of their business.
As an organization, there are five phases to work through to go from digital zero to hero.
Keep Reading…. here
Consumer Sentiment and Behavior Changes in the COVID-19 Crisis
Research from Mckinsey points to five themes that have become evident among consumers across the globe:

1) Shift to value and essentials
2) Flight to digital and omnichannel
3) Shock to loyalty
4) Health and "caring" economy
5) Homebody economy

None of this is surprising, and this article also suggests these themes are becoming baked in behaviours.
I shared this article over the summer on LinkedIn, and it crested over 13,000 views. If you have not read it already, it is worth your time.
Read the article here
How Six Companies are using Technology and Data to Transform Themselves
Facts are stubborn things:
Before the global health crisis hit, 92 percent of company leaders surveyed thought that their business model would not remain viable at the digitization rates at that time.

The reality today is that organizations need to digitalize or die.

Winning companies invest in the tech, data, processes, and people to enable speed through better decisions and faster course corrections.

According to the research done for this article, these are the winning ingredients:

1) Digital speed. Leading companies operate faster, from reviewing strategies to allocating resources.

2) Ready to reinvent. While businesses need to maintain their business's profitable elements, business, as usual, is dangerous.

3) All in. Companies aren't just making decisions faster; the decisions themselves are bolder.

4) Data-driven decisions. The road to recovery is paved with data. Data is the fuel to power better and faster decisions.

5) Customer followers. Being "customer-centric" is well established. Top companies sustain a comprehensive focus on the customer.

Tech + Data + Processes + People = Competitive Advantage in Customer Experience
Read the stories of how these companies use these themes to win here
What I am Currently Reading and Why
Over the summer, I took some time away from work, and when I take time away from work, I try to find books that I generally don't read. So, not business books. This summer, I have indulged in three books, the first because I enjoy most anything he writes, another because I am an armchair historian, and the last because I am fascinated by how the science of economics is creating a deeper understanding of our societies cause and effect.
A Short History of Nearly Everything
-Bill Bryson
I read this book over seven years ago while climbing Everest. Beyond the lower oxygen levels, I had a bit going on with climbing the mountain and all. The upside is, I do not remember much of the book at all, which has made this pass through the tomb a new delight. In his witty way, Bill takes you through a romp of what science knows about the world, combined with the humorous history of how science got to understand what it knows about the world, and alarmingly what science does not know about the world.
Alaric the Goth An Outsider's History of the Fall of Rome
-Douglas Bion
All Alaric wanted to be is a Roman, a peer, an equal, to have the Goth's grievances listened to and addressed. The Romans let him fight their wars even govern their territories, but they wouldn't accept him, so to get their attention, he gathered his followers and sacked Rome. He is now forever heard throughout history.
– Klein and Pettis
This book (as most books about economics I read) is tough to work through. But it raises an interesting point. The trade wars are not a result of foreign policy; they are due to domestic policy. Essentially the policies that enable middle-class financial engineering allow the elites to use these same levers to exploit the system. While I find their argument compelling, to be 100% true to their proposed cause and effect, the world's narrative needs to be linear to their argument's root cause. For my part, I find the real world is more multifactorial and messy. That does not mean their view is wrong; I don't believe it is the whole truth.
---
Downloads Available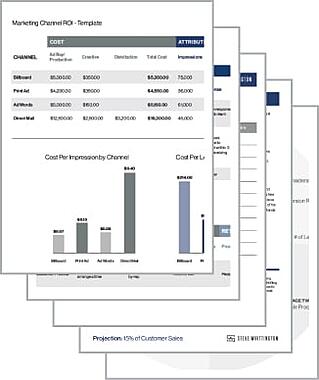 Whether you are looking to map your customer journey, build customer profiles, set goals or conduct marketing channel ROI, check out the expanding set of tools available: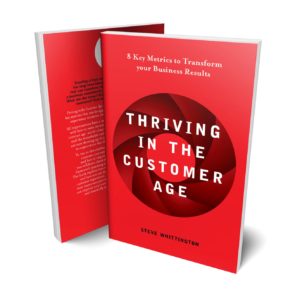 Steve's first book Thriving in the Customer Age – 8 Key Metrics to Transform your Business Results teaches about the customer journey and provides a guiding framework spanning all stages of the customer experience. The book explains how every metric impacts an organization and how leaders can utilize each metric to create continuous improvement in their customer experience. Everyone knows the customer is the most important part of a business. This book provides the tools to improve an organization's customer experience and drastically transform business results.
---
If you are looking to take your customer experience to the next level let's connect!