Thriving In The Customer Age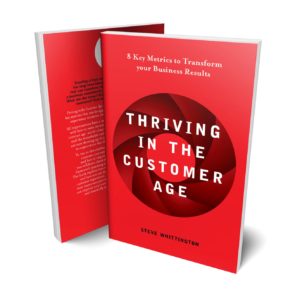 8 Key Metrics to Transform your Business Results
Creating a truly remarkable customer experience has long been known as a competitive advantage that can transform your business results. But how does a business consistently provide this high-quality experience? What are the steps? How is a customer experience initiative measured? How does it improve the bottom line?
Thriving in the Customer Age provides a simple framework with eight key metrics that can be applied and used to measure your customer experience initiative results, tied directly to the bottom line.
Who this book is for:
Executives who wish to learn how to transform their organization's Customer Experience
Sales Leaders that want to "bake-in" the best practices and ROI of CX
CX leaders needing support to prove ROI on their initiatives
Marketers who are being tasked with the responsibility of the end to end customer journey
Entrepreneurs that wish to learn about the one competitive advantage they can create regardless of product, service or sector they are in
Any member of any team that wishes to level up the customer experience of their organization
All organizations have a customer journey, and many grapple with how to meet increased customer expectations. Due to the internet age, world-class experiences are shared easily and often, and remarkable customer experiences that were once rare are now regularly showing up in social media feeds, and are now expectations that all organizations are judged against.
Where to Purchase
Book Information
Date Published: 2019-08-23
Publisher Name: Calvin Simpson
Genre: Business Management
ISBN: 0995090556