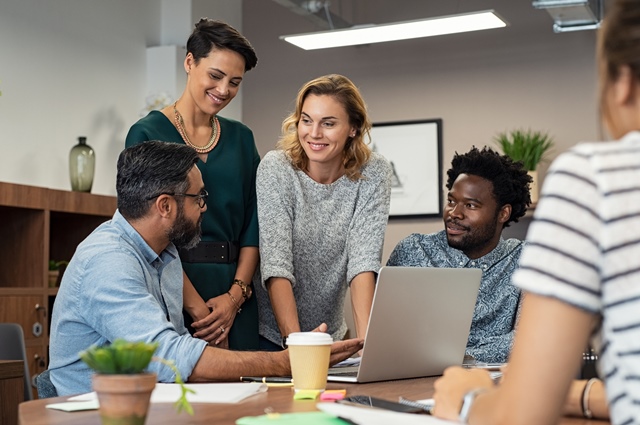 According to a survey conducted by Lean Data,
"51% of marketers are not satisfied with the level of communication between the teams and 53% of sales professionals are not pleased with marketing's support." 
These stats are not surprising as the war between marketing and sales goes back since the two separate departments' dawn.
Search, and you will find a load of numbers that point to this lack of alignment and the impact of that lack of alignment. There is no surprise here. The challenge is what to do.
The simple answer is there needs to be a shared goal for sales and marketing and a genuine understanding of what your customers need to accomplish their goals (not your goals). That's it! Simple right?
So, where to start?
Start by aligning both departments with one goal: revenue. The departments need to both be accountable to that goal, not leads, impressions, calls or proposals sent. Revenue! That is it. Then the two departments can co-create what is needed to reach that goal by using best practices.
Three simple best practices to start:
The first best practice is to have a written service level agreement (SLA) between the two departments that states when and how many qualified leads need to be delivered to sales and how fast sales will respond to the leads delivered. This SLA will set the benchmark for the two departments to measure against to reach their shared goal.
The second best practice is to improve communication with a regular "Smarketing" meeting. This meeting will get the two groups together to review what is working and co-create what is needed to reach the combined goal. The meetings should be bi-weekly to build momentum; they should be an objective and an open forum consisting of front-line sales and marketing so feedback is direct and folks doing the work can provide input to each other.
The third best practice is to create content that really matters to your customer. Sales know what information customers need because they answer the customer's questions all day long. If sales can share all the questions they have to field in sales calls, marketing can create content that answers those questions. Answering customer questions before they get to sales will provide higher qualified leads. Providing the answers that customers are seeking (or searching) will attract more leads. Working this way together, the two departments can lower friction in the buyer's journey and enable higher sales.
These practices should be bolstered by customer journey mapping, improved and updated processes, and supporting technology. Which, done together, will enable your teams to gain further understanding of your customer, further ability to delight your customer and further ability to increase your sales velocity.
The end goal for both departments is to increase top-line revenue with the ideal customers for the organization. To do this the two teams need to act as one with an ongoing feedback loop to hone their results. It is not sales it is not marketing it is smarketing!
Steve Whittington is President of Roadmap Agency Inc. He has also served for over a decade as a member of the Executive Team of Flaman Group of Companies an award-winning organization and has over 25 years of executive experience. Steve's current board work includes serving as; President of Glenora Child Care Society; and Co-Chair of the Marketing Program Advisory Committee for NAIT's JR Shaw School of Business. Previous notable board work included, Chair of the board for Flaman Fitness Canada, a national retailer, a Director for a meal prep internet Startup Mealife and Chair of Lethbridge Housing authority, the third-largest Social housing NGO in Alberta.
Academically, Steve was an instructor of Project Management at Lethbridge College for seven years. Steve holds a Bachelor of Commerce Honours degree; he is a Certified Sales Professional (CSP), Project Management Professional (PMP), Certified Marketing Specialist (CMS) and (CCXP) Certified Customer Experience Professional.
Steve's first book Thriving in the Customer Age – 8 Key Metrics to Transform your Business Results teaches about the customer journey and provides a guiding framework spanning all stages of the customer experience. The book explains how every metric impacts an organization and how leaders can best utilize each metric to provide a stellar customer experience. Everyone knows the customer is the most important part of a business. This book provides the tools to improve an organization's customer experience and drastically transform business results.
Recently Steve's Blog has been profiled as one of the Top 75 Customer Experience blogs