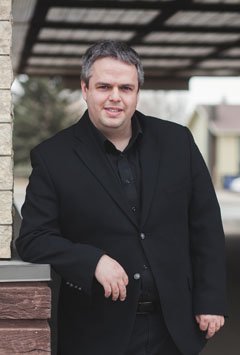 Push develops apps for industries such as higher education, financial, retail, and healthcare. Push has collaborated with over 50 clients and has developed over 90 applications. Some of Push's clients include: Federated Co-operatives Limited, Affinity Credit Union, Credit Union Central of Canada, itracks, LearnZillion, Axon Development, and Saskatoon Regional Health Authority.
In the past five years, Push has received national press coverage from CBC, CTV, and Maclean's Magazine, was nominated for a 2011 NextMedia Digi Award as Canada's "Top Development Team", won the 2012 Saskatoon Awards for Business Excellence (SABEX) "Award of Innovation", was nominated for the 2012 Achievement in Business Excellence (ABEX) "Award of Innovation", was nominated for the 2013 ABEX Awards for Exports and Innovation and most recently won the 2014 NSBA Team Building Award and the 2014 Saskatoon Achievement in Business Excellence Award for Small Business of the Year. Push is also proud to be listed on the Branham300 Top 50 ICT Companies list for the past 2 years. In 2014 Push also won the ABEX Export Award.
The Push development team consists of the top mobile app developers in Canada, having worked for and being sought after by companies such as Apple, Google, Amazon, BlackBerry and Pixar. Push developers work hard to produce organizations with functional and feature-rich mobile solutions that exceed industry standards. Push engineers collaborate with one another to produce consistent quality across all platforms. As a result, Push apps are powerful, functional and require very little maintenance.
Show Notes:
1:54 Chad talks about how he got started with building aps
2:15 Chad talks about working at apple
3:10 Chad talks about starting a mobile app development class at University of Saskatchewan
7:35 Once you get sixty requests to build an app it is time to start a company
9:25 Hard lessons learned starting up a company
12:20 Chad talks about teams
16:20 Why would anyone want an app?
19:29 People spend more time using their mobile phone than any other media
25:29 what Chad does to stay current with technology trends
28:10 The power of a new name
29:37 Combating the war for talent
31:40 A players want to work with A players
33:35 What Chad does to keep focused -a vision
Steve Whittington is President of Roadmap Agency Inc. He has also served for over a decade as a member of the Executive Team of Flaman Group of Companies an award-winning organization and has over 25 years of executive experience. Steve's current board work includes serving as; President of Glenora Child Care Society; and Co-Chair of the Marketing Program Advisory Committee for NAIT's JR Shaw School of Business. Previous notable board work included, Chair of the board for Flaman Fitness Canada, a national retailer, a Director for a meal prep internet Startup Mealife and Chair of Lethbridge Housing authority, the third-largest Social housing NGO in Alberta.
Academically, Steve was an instructor of Project Management at Lethbridge College for seven years. Steve holds a Bachelor of Commerce Honours degree; he is a Certified Sales Professional (CSP), Project Management Professional (PMP), Certified Marketing Specialist (CMS) and (CCXP) Certified Customer Experience Professional.
Steve's first book Thriving in the Customer Age – 8 Key Metrics to Transform your Business Results teaches about the customer journey and provides a guiding framework spanning all stages of the customer experience. The book explains how every metric impacts an organization and how leaders can best utilize each metric to provide a stellar customer experience. Everyone knows the customer is the most important part of a business. This book provides the tools to improve an organization's customer experience and drastically transform business results.
Recently Steve's Blog has been profiled as one of the Top 75 Customer Experience blogs