Unless you have been living under a rock, all organizations know that focusing on customer experience is the single initiative that brands can do to differentiate themselves in the marketplace and create value. This need is not just for service or retail organization but all organizations, including fabrication, manufacturing even the non profit sector. An entire industry has developed around teaching customer service to organizations. The challenge for a lot of organizations has been measuring the entire customer experience with metrics that can be referred to and improved upon. The entire customer journey can now be measured, in fact as you will see in this talk it has been codified.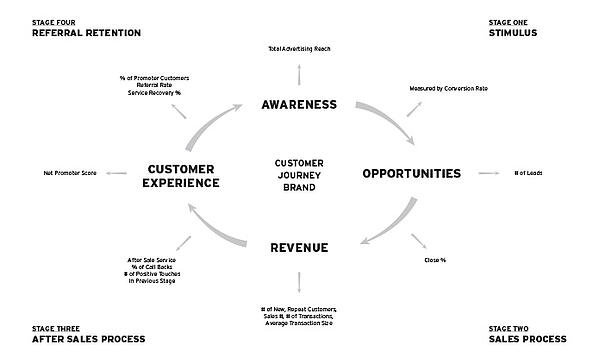 The customer journey with an organization is broken into four stages. Stimulus, The Sales Process, The After Sales Process and Retention and Referral. (Read the four stages of the customer journey) Each of these stages can be measured using various data points from software, surveys and customer information. Improving any one of these stages or "moments of truth" can influence your business results. Imagine working on all of them at the same time? Dramatic breakthrough results can be achieved. This talk takes you through the customer journey, its measurement and the ways to improve the individual stages and all the "moments of truth" you have with your customer.
Steve Whittington is President of Roadmap Agency Inc. He has also served for over a decade as a member of the Executive Team of Flaman Group of Companies an award-winning organization and has over 25 years of executive experience. Steve's current board work includes serving as; President of Glenora Child Care Society; and Co-Chair of the Marketing Program Advisory Committee for NAIT's JR Shaw School of Business. Previous notable board work included, Chair of the board for Flaman Fitness Canada, a national retailer, a Director for a meal prep internet Startup Mealife and Chair of Lethbridge Housing authority, the third-largest Social housing NGO in Alberta.
Academically, Steve was an instructor of Project Management at Lethbridge College for seven years. Steve holds a Bachelor of Commerce Honours degree; he is a Certified Sales Professional (CSP), Project Management Professional (PMP), Certified Marketing Specialist (CMS) and (CCXP) Certified Customer Experience Professional.
Steve's first book Thriving in the Customer Age – 8 Key Metrics to Transform your Business Results teaches about the customer journey and provides a guiding framework spanning all stages of the customer experience. The book explains how every metric impacts an organization and how leaders can best utilize each metric to provide a stellar customer experience. Everyone knows the customer is the most important part of a business. This book provides the tools to improve an organization's customer experience and drastically transform business results.
Recently Steve's Blog has been profiled as one of the Top 75 Customer Experience blogs