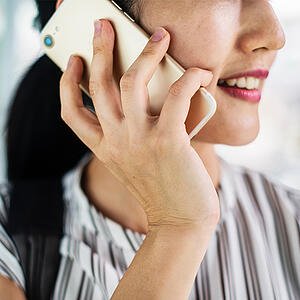 I was in a meeting this week and discussion around mapping the customer journey occurred. The discussion was regarding the steps needed to implement a new customer facing solution. Happily, everyone agreed that the organization's customer journeys by customer profiles were a needed input when implementing a customer facing solution. "Great!" I thought to myself, "Customer understanding is starting to be baked into this organization's thinking."
I listened and waited for the discussion to move to the next step of designing the implementation, which it quickly did once it was concluded that taking existing journey maps and reviewing them with the team for updates was all that was needed.
I interjected: "Was customer input gathered originally to create the maps?" The reply was: "We created the maps with staff that interact with the customer across the various touch-points." I agreed this was the recommended process to start mapping. But to close the loop on the maps created, customer validation was needed. It was my follow up statement that drew confused looks "So, you created the maps and you have been designing your customer facing business processes matching these maps, and you have not asked the customer if these maps truly are their experience nor if all the steps are desired and thus needed?"
Their response which I have heard many times is: "How do we do that?"
The answer of course is gathering and listening to the voice of the customer.
Voice of the Customer
The voice of the customer (or VOC) is generally defined as an in-depth marketing research technique used to understand customer needs and wants, and provides an opportunity for the business to prioritize needs and wants based on a customer-defined importance.
VOC can be captured in a variety of ways, which can include quantitative data and qualitative data, both of which are needed to gain understanding. The methods to use are many, such as gathering a core customer focus group to review your documented journeys and provide insights and input, to various listening and review techniques such as reputation management, Net Promoter Scores, and observing the implementation of the journey live (in store observers, recorded calls, or magic browsing with live customer interaction on your website.) No matter the technique used, being willing to dive into the data and ask "why" is needed to gain true customer understanding and clarity on customer journey touch-point wins and misses.
For instance, reputation management ratings provide insight into the overall level of satisfaction of your customers. So a 3 out of 5 would, as an aggregate rating, indicate that an organization is average. But the true understanding is not in the tallied average result, but how the result got tallied.
Comments and reviews, considered individually, can provide a greater degree of understanding. If 50% of your reviews were 1 and 50% were 5 you would receive a 3, but clearly your organization is not average. Your organization is exceptional half the time and horrible the other half. This could immediately point to lack of process, or the need for further training. Either way as per the quantitative data, clearly something in your customer journey is off. Digging deeper into the quantitative data may reveal the issue is with one location or one customer segment. Further to this, asking why the review was a 1 or a 5 by engaging said customers will provide qualitative data insights. You just need to be willing to ask and listen in order to understand.
Having processes in place to capture elements of the VOC will give you deeper understanding of your customers' experiences. The reason an organization collects and reviews this data is because generally, you don't know when things are bad or good for customers (even though you think you do, having mapped the journeys). Thus, you don't know what you don't know and most customers, when they have a bad experience, just go away; of those who have an amazing experience, very few volunteer that information.
The point is, good or bad (but more likely for bad), very few customers will share feedback. This is why you need to build a process to ask for feedback to capture the VOC. This can be done by sending a Net Promoter Score (NPS) survey after every purchase, making sure you are ready and able to receive and respond to reviews on all major platforms like Google, Facebook, Yelp, and then asking for feedback at the completion of your major touch-points (or moments of truth). Only by earnestly asking for feedback will you receive it and thus have the opportunity to respond, understand, learn and improve. In the end, your VOC processes should be able to validate your mapped customer journeys and with that baseline established you are ready to iterate for improvement.
Steve Whittington is President of Roadmap Agency Inc. He has also served for over a decade as a member of the Executive Team of Flaman Group of Companies an award-winning organization and has over 25 years of executive experience. Steve's current board work includes serving as; President of Glenora Child Care Society; and Co-Chair of the Marketing Program Advisory Committee for NAIT's JR Shaw School of Business. Previous notable board work included, Chair of the board for Flaman Fitness Canada, a national retailer, a Director for a meal prep internet Startup Mealife and Chair of Lethbridge Housing authority, the third-largest Social housing NGO in Alberta.
Academically, Steve was an instructor of Project Management at Lethbridge College for seven years. Steve holds a Bachelor of Commerce Honours degree; he is a Certified Sales Professional (CSP), Project Management Professional (PMP), Certified Marketing Specialist (CMS) and (CCXP) Certified Customer Experience Professional.
Steve's first book Thriving in the Customer Age – 8 Key Metrics to Transform your Business Results teaches about the customer journey and provides a guiding framework spanning all stages of the customer experience. The book explains how every metric impacts an organization and how leaders can best utilize each metric to provide a stellar customer experience. Everyone knows the customer is the most important part of a business. This book provides the tools to improve an organization's customer experience and drastically transform business results.
Recently Steve's Blog has been profiled as one of the Top 75 Customer Experience blogs