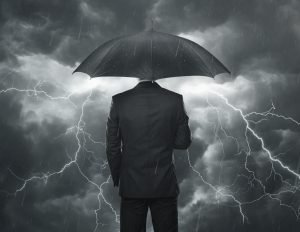 Most of the time a communications crisis starts like this: a phone call, email, SMS or IM out of the blue "Hey, are you aware of this _____?"
If you are a leader and your organization is struck by a communication crisis what do you do? Often you did not expect it and you have not prepared for it.As the executive leader responsible for Marketing and Communications, when a communications crisis hits, it becomes my crisis. In today's world one could substitute communication crisis with simply social media crisis (which can blow up into a full media communication crisis). The best way to handle a social media crisis is to know when it is coming, which means social media monitoring. If you are not monitoring social you really are blind to the mood of the market place. Get some tools (socialmention.com is free) and start listening. Beyond not being completely surprised by a when crisis hits, I follow some simple rules: the first one is to remember that every situation is an opportunity to create a positive brand impression as opposed to just damage control.
Step 1: Stay calm and get the facts
The worst thing you can do as a leader is overreact to a situation and add fuel to the fire through a quick, poorly thought out or badly worded response. While things move quickly it is important to understand the context of the situation. Why are people upset? What is the impact to our brand? What will our response be based on our values? What actions do we need to do, if at all and by when?
Step 2: Seek to understand the situation as opposed to just manage the situation.
Hopefully by staying calm you took the time to understand what is happening and why. If you know that your response can have empathy and be human, it will have a far greater chance of connecting and making a positive brand impression. Consider the following two responses:
Response A: "The actions of our staff are their own and what our staff do on their own time is their own responsibility, not that that of company of ABC." This is simple and to the point; it neither accepts or denies responsibility.
Response B: "Our staff's actions on their own time is not in our control and their actions are their own and not that of company ABC, however, we do recognize and acknowledge the hurt and division this issue has caused our communities. It is heartbreaking how much work still needs to be done towards reconciliation." This states the same message as above but by taking time to understand the situation this response is human and has empathy.
Which one do you think will be better received?
Step 3: Take Responsibility, be transparent.
An apology does not mean anything if you do not mean it and people know when you are not being sincere and avoiding responsibility. So be transparent in your response. If you acknowledge a mistake was made, often that is all people are looking for. That said, I follow a four-step rule when it comes to responding to customers upset about mistakes the organization has made. First listen/learn, then acknowledge, apologize for the mistake and then state what you are going to do to address the mistake.
For instance:
"I acknowledge and understand your frustration. I am truly sorry on behalf of company ABC. We made a mistake, that behavior is not representative of who we are as an organization, and as a result we will refund your cost."
It is tough for customer to continue their anger when they are heard, the mistake was admitted and apologized for, and then resolution was provided.
Step 4: Move Quickly, if possible get ahead of the story
When a crisis hits it builds fast, and quick action can defuse it just as quickly. While you need to gather facts and form a response, be aware that you do need to move quickly; every minute counts and a lack of response is being held against you. The lack of response creates a void, and the public will fill it with their stories on social media. It is better to lead the conversation than to have to catch up with it.
Step 5: Create a response with the help of your team
If you are the leader, the responsibility for pushing the publish button is yours and yours alone, but don't create the response alone. Use your team, each individual will add a voice which in turn may be reflective of the various opinions of the public. By letting your team express their concerns and feelings in the response, you stand a better chance of crafting a response that resonates with more individuals.
Step 6: Publicly release the response and inform your entire team of the situation
Once the official stance is determined share it with everyone and the protocol for responding to inquiries. Beyond making sure everyone on your team will cascade the same message, you also want them to be informed. It is embarrassing to a team member if they find out about a company crisis from a customer who read about it in their social news feed. By informing your staff they will not get surprised and will have an informed comment to provide to their customer.
Step 7: Monitor the situation
Once you create your response and publicly post it, now you have to monitor the reaction to determine if further response is required. If your response has followed the above steps there is a pretty good chance the crisis will go away as fast as it built up. However, there can be after-shocks, so be prepared and be diligent by keeping a watchful eye on the situation.
Step 8: Evaluate after the crisis and learn from it
Once your world returns to normal, gather the stakeholders and review what happened, why it happened, why the organization responded the way it did, how the response was created and what were the outcomes. All great lessons for handling the next time…and there will be a next time, there always is.
Steve Whittington is President of Roadmap Agency Inc. He has also served for over a decade as a member of the Executive Team of Flaman Group of Companies an award-winning organization and has over 25 years of executive experience. Steve's current board work includes serving as; President of Glenora Child Care Society; and Co-Chair of the Marketing Program Advisory Committee for NAIT's JR Shaw School of Business. Previous notable board work included, Chair of the board for Flaman Fitness Canada, a national retailer, a Director for a meal prep internet Startup Mealife and Chair of Lethbridge Housing authority, the third-largest Social housing NGO in Alberta.
Academically, Steve was an instructor of Project Management at Lethbridge College for seven years. Steve holds a Bachelor of Commerce Honours degree; he is a Certified Sales Professional (CSP), Project Management Professional (PMP), Certified Marketing Specialist (CMS) and (CCXP) Certified Customer Experience Professional.
Steve's first book Thriving in the Customer Age – 8 Key Metrics to Transform your Business Results teaches about the customer journey and provides a guiding framework spanning all stages of the customer experience. The book explains how every metric impacts an organization and how leaders can best utilize each metric to provide a stellar customer experience. Everyone knows the customer is the most important part of a business. This book provides the tools to improve an organization's customer experience and drastically transform business results.
Recently Steve's Blog has been profiled as one of the Top 75 Customer Experience blogs