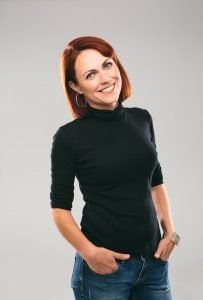 Katrina German calls herself a Saskatchewan gypsy. To date she has had an interesting career and I expect it will continue to be very interesting. She is an individual dedicated to helping individuals and organizations tell their story. It is through stories that causes and ideas get amplified. Katrina's slogan: "I make good ideas louder. "
Katrina is a seasoned executive, leader, and strategist that has influenced millions of people through digital storytelling and online media.
Through fifteen years in communications, She has worn many hats – CEO, fundraiser, digital strategist, community manager, writer, television producer and host, video editor, speaker, and trainer. She a strong believer in measured results, radical creativity and using technology to improve workflow.
Enjoy the conversation.
Steve Whittington is President of Roadmap Agency Inc. He has also served for over a decade as a member of the Executive Team of Flaman Group of Companies an award-winning organization and has over 25 years of executive experience. Steve's current board work includes serving as; President of Glenora Child Care Society; and Co-Chair of the Marketing Program Advisory Committee for NAIT's JR Shaw School of Business. Previous notable board work included, Chair of the board for Flaman Fitness Canada, a national retailer, a Director for a meal prep internet Startup Mealife and Chair of Lethbridge Housing authority, the third-largest Social housing NGO in Alberta.
Academically, Steve was an instructor of Project Management at Lethbridge College for seven years. Steve holds a Bachelor of Commerce Honours degree; he is a Certified Sales Professional (CSP), Project Management Professional (PMP), Certified Marketing Specialist (CMS) and (CCXP) Certified Customer Experience Professional.
Steve's first book Thriving in the Customer Age – 8 Key Metrics to Transform your Business Results teaches about the customer journey and provides a guiding framework spanning all stages of the customer experience. The book explains how every metric impacts an organization and how leaders can best utilize each metric to provide a stellar customer experience. Everyone knows the customer is the most important part of a business. This book provides the tools to improve an organization's customer experience and drastically transform business results.
Recently Steve's Blog has been profiled as one of the Top 75 Customer Experience blogs