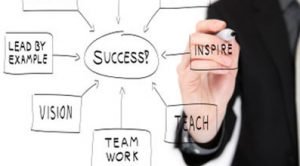 I have had coaches throughout my career and for the past two years I have been an active coach myself. It has been a learning journey and I fully expect I will continue to learn as I continue to coach. While I have greatly benefited from being coached, it has been being a coach that has given me the greatest personal growth.
According to Tim Gallwey, author of a series of books about the inner game: "Coaching is unlocking a person's potential to maximize their own performance. It is helping them to learn, rather than teaching them." Applied in the business world, this means not telling people what to do but helping them believe in themselves so they try harder and reach higher and, by doing so, achieve their potential.
So how does helping others achieve their potential help the coach reach their potential? For my part it comes down to six things:
Increasing organizational effectiveness: When you are a leader you reach your potential through the work of your team. The individual's accomplishments are also the team's accomplishments, and what the team is able to achieve is the ultimate score card of the leader.
Becoming a subject matter expert: It is well known that the best way to learn a concept is to teach it. When cascading new initiatives or cultural behavior across an organization, teach as a coach and you become the expert.
Higher level of accountability: It is interesting that I would fail to act on my own coach's advice at times but when I started doling out similar messages, I really needed to embody "the wisdom" I was doling out. Certainly when you are couching within your organization, you must be the example of your teachings otherwise you have no credibility.
Higher level of self-awareness: By unlocking higher performance in others and reflecting on their actions or inaction's that mandate their growth, it created a space for me to reflect on my own actions and inaction's with higher clarity and objectivity. By combining this self-awareness with a higher level of accountability, my personal growth reached a new level.
Insight into the needs of the organization: Most of coaching is listening and understanding. When you are coaching inside your organization through listening to the challenges that your organization is facing, you gain incredible insight on how to help the organization.
The general satisfaction you get from helping others develop and succeed.
If you are in a leadership position and do not want to become "the lid" with the above reasons for coaching it is a clear way to increase your potential and of course your team's potential. At the end of the day coaching is about serving others and unlocking their potential and the research is clear about the benefits to others. Reading through various sources I quickly complied the following lists of why leaders should coach.
The benefits of coaching for the individual being coached are:
Greater self awareness and the skills to interact with all types of customers and staff.
Greater self belief, coupled with appropriate behaviors and attitudes.
Improved confidence in dealing with challenges and people
A hunger for new skills and knowledge acquisition
Improved problem solving techniques.
Feeling supported and encouraged by their manager and the company
They experiencethe pride and satisfaction that comes with surmounting new challenges
This leads to the organization benefiting by:
Improved personal performance improves organisational performance.
Commitment to personal development, which continues to improve organization performance long term
Further to this coaching can:
Overcome costly and time-consuming performance problems
Strengthen employees' skills so you can delegate more tasks to them and focus on more important managerial responsibilities—such as planning
Boost productivity by helping your employees work smarter
Develop a deep bench of talent who can step into your shoes as you advance in the company
Improve retention: employees are more loyal and motivated when their bosses take time to help them improve their skills
Make more effective use of company resources; coaching costs less than formal training
It seems abundantly clear that leaders should coach. Google "why coach" and you will find all of the above reasons across most blogs, which is encouraging that all the experts think along similar lines.
If it is in a blog it must be true right? Well, that is same as believing every post on Facebook. So I dug a little deeper to find actual research.
According to research:
4% increase in productivity after management training but 88% increase after internal coaching -Olivero et al (1997)
41% of coachees were promoted compared to 15% of the non-coached group, and leadership skills and job satisfaction improved -NHS Leadership Centre (Woolnough et al 2004)
70% improved work performance; 61% improved business management; 57% improved time management, 51% improved team effectiveness -Global Coaching Client Study by PricewaterhouseCoopers
80% improved self-confidence; 73% improved relationships; 72% improved communication skills; 67% improved life/work balance -Global Coaching Client Study by PricewaterhouseCoopers
86% of organizations that engaged professional coaching say they at least made their investment back -Global Coaching Client Study by PricewaterhouseCoopers
So the blogs are true! Coaching has immense value. If you are still not convinced why is it that the world's best performers ( in sports, performance arts, etc) have coaches yet the rest of us are unsure if we really need a coach?
Coaches show us our blind spots, coaches hold us accountable and push us to try hard and reach higher. A great coach inspires us to reach our potential. A potential we may not have believed we had but that they see in us.
Clearly everyone should have a coach, even coaches.
Steve Whittington is President of Roadmap Agency Inc. He has also served for over a decade as a member of the Executive Team of Flaman Group of Companies an award-winning organization and has over 25 years of executive experience. Steve's current board work includes serving as; President of Glenora Child Care Society; and Co-Chair of the Marketing Program Advisory Committee for NAIT's JR Shaw School of Business. Previous notable board work included, Chair of the board for Flaman Fitness Canada, a national retailer, a Director for a meal prep internet Startup Mealife and Chair of Lethbridge Housing authority, the third-largest Social housing NGO in Alberta.
Academically, Steve was an instructor of Project Management at Lethbridge College for seven years. Steve holds a Bachelor of Commerce Honours degree; he is a Certified Sales Professional (CSP), Project Management Professional (PMP), Certified Marketing Specialist (CMS) and (CCXP) Certified Customer Experience Professional.
Steve's first book Thriving in the Customer Age – 8 Key Metrics to Transform your Business Results teaches about the customer journey and provides a guiding framework spanning all stages of the customer experience. The book explains how every metric impacts an organization and how leaders can best utilize each metric to provide a stellar customer experience. Everyone knows the customer is the most important part of a business. This book provides the tools to improve an organization's customer experience and drastically transform business results.
Recently Steve's Blog has been profiled as one of the Top 75 Customer Experience blogs