Even before I reached the summit of Mount Everest, I had discovered many components of great leadership. Like you, I have read a book or two about leadership. I started creating lists of leadership qualities I had gathered from mentors, books and colleagues. But my profound understanding of leadership came from my experience on mountains leading teams. And as our team descended from the highest peak on earth, I became even more convinced that some qualities of leadership are far more important than others.
What makes an effective leader? When I present my Alpine Leadership Keynote talk at conferences and events, I share how climbing mountains has helped to shape the three components of great leadership that I call on the most.
The leadership skills and qualities needed to be successful in the Alpine world are the same as in the business world; the difference is the level of consequence. In the Alpine, bad leadership has the ultimate price.
For fun the other day I Googled the "C's of leadership" and this is what I found:
Conviction
Clarity
Compassion
Consistency
Care
Communication
Creativity
Critical Thinking
Character
Collaboration
Competence
Charismatic
Credible
Convincing
Cause
Coaching
Culture
Courage
And the list goes on. As it should. I believe there are not just three C's of leadership, nor are there five C's or six or seven. All of the C's of leadership may be needed from time to time.
Today I'd like to focus on the top three C's of leadership that I call on the most:
Three Key Qualities of Leadership
#3 Communication
If you think you have communicated something enough, communicate it five more times at least.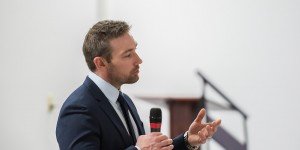 I have often said this as a rebuttal to a frustrated leader lamenting "I told them what needed to be done! I do not understand why it is not completed!"
Clarity with your communication is crucial, and so is timeliness, method of delivery and identification of all required stakeholders. Entire blogs, books and courses have been written about this topic. Obviously in the Alpine if your communication is unclear things can go wrong very quickly. A simple misunderstanding of "on belay and off belay" is life or death.
Communication is one skill as a leader I work on every day and ask the question:
"Did I communicate this clearly?"
If I am honest to myself when something does not go as planned, in post project reflection I admit I could have communicated more. In fact, during projects when the scope is starting to creep or problems occur, I know I need to communicate more.
Communicating clearly takes time and effort.
Do the work upfront because otherwise you will be working (usually more) afterwards communicating changes and fixes with effort you should have already put in. When this happens not only have you wasted your own time and effort, you have wasted your team's time and efforts and, depending on the situation, your customers' time.
#2 Conviction
The easiest thing to do when climbing is to give up, turn around and go home. In business the same thing happens; excuses are made, doubts raised. We tried, it did not work.
The statistics in business are against you:
80% of new ventures fail,
92% of salespeople give up after the 4th rejection,
50% of projects fail.
The statistics of life are just as daunting:
98% of dieters fail,
50% of people quit working out within 6 months,
25% of students drop out of college.
50% of people fail to summit "Denali" North America's highest peak
In most workplaces where mistakes come with a reprimand and with the stats stacked against you, you might think: why even try? If you do not try, you cannot fail. It is the safe thing to do.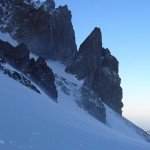 If you are going to be successful as a leader you need to overcome all these doubts when setting a new direction or executing a project. Your team needs to see your unwavering belief in a direction. Your team needs to believe that you know the direction being set can be done. You can discuss risk mitigation but you cannot doubt the outcome.
You, as the leader, must provide that conviction your team can rally to. The difference between success and failure, between reaching the peak or not, is sometimes as simple as just not giving up.
#1 Consistency
I believe consistency is perhaps the most underrated of the C's and the one of the features of leadership I use the most.
In the leadership context I define consistency as beating the drum.
In the Alpine when leading teams, I have a simple rule, we move for an hour and rest for ten minutes. No breaks in between, and no longer than a ten minute rest. The reason is simple: if you have multiple people requesting breaks at multiple times, on a rope team your time extends quickly. A set break rule creates consistency for the day and a rhythm. For my climbing teams this rule has become one of our climbing rituals.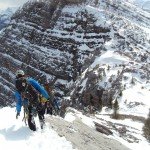 As a leader, you need to set rituals for your team and organization that create a consistent pulse (or drum beat) to keep the team engaged, accountable, focused and communicated with.
I run a variety of monthly and weekly meetings for various divisions, departments and teams. We cover standard topics and my job as a leader is to communicate the organization or division vision; receive feedback; provide feedback on projects and results; and facilitate a formal forum for debate on issues of the day, week or month, in which consensus and a decision can be reached that the team can go execute upon.
The meetings are always at the same time on the same day (Monday morning or the first Tuesday or Wednesday of the month) unless holidays or special circumstances cause the date to be changed. The meetings also occur in my absence. A substitute chair is selected and they run the meeting for the team.
The importance of these rituals cannot be overstated.
The often quoted "what gets measured gets managed" occurs through consistent rituals, such as meetings or standard work for each day of the week.
Consistency creates a pulse that drives the organization forward.
Consistency creates work habits and provides structure.
Consistency is such a simple thing yet so difficult for many leaders to achieve.
People are creatures of habit, give them consistency and lead them in good habits. Your results will speak from themselves.
While I call on these C's of leadership the most, as the situation demands I use other C's of leadership. Great Leadership should evolve and be fluid as opposed to rigid and unchanging. I suppose that is why there a many C's of leaderships to call upon.
---
Subscribe to The Leadership Series. Get inspired by interviews and insights with top leaders in small to medium sized businesses.
---
What are your C's of leadership?
I would like to learn which components of great leadership qualities are important to you and why, so leave a comment and let me know.
Steve Whittington is President of Roadmap Agency Inc. He has also served for over a decade as a member of the Executive Team of Flaman Group of Companies an award-winning organization and has over 25 years of executive experience. Steve's current board work includes serving as; President of Glenora Child Care Society; and Co-Chair of the Marketing Program Advisory Committee for NAIT's JR Shaw School of Business. Previous notable board work included, Chair of the board for Flaman Fitness Canada, a national retailer, a Director for a meal prep internet Startup Mealife and Chair of Lethbridge Housing authority, the third-largest Social housing NGO in Alberta.
Academically, Steve was an instructor of Project Management at Lethbridge College for seven years. Steve holds a Bachelor of Commerce Honours degree; he is a Certified Sales Professional (CSP), Project Management Professional (PMP), Certified Marketing Specialist (CMS) and (CCXP) Certified Customer Experience Professional.
Steve's first book Thriving in the Customer Age – 8 Key Metrics to Transform your Business Results teaches about the customer journey and provides a guiding framework spanning all stages of the customer experience. The book explains how every metric impacts an organization and how leaders can best utilize each metric to provide a stellar customer experience. Everyone knows the customer is the most important part of a business. This book provides the tools to improve an organization's customer experience and drastically transform business results.
Recently Steve's Blog has been profiled as one of the Top 75 Customer Experience blogs