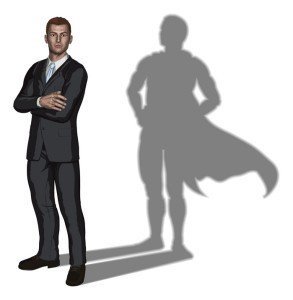 The Hero Leader
The image of a leader is often an individual out front. Leaders lead. I agree with this. What I do not agree with is the image of the superhero leader. I believe leadership is more about soft qualities such as courage, discipline, patience, perseverance, consensus building, listening, coaching and consistency; as opposed to "hero" qualities of decisiveness, being a visionary and having an unwavering resolve. To be clear, I think the "hero" qualities are needed to be an effective leader, but without soft qualities the leader would charge off in a direction decisively, full of vision and resolve. That "leader" would most likely just be going for a walk by themselves.

Soft qualities are the day to day leadership actions. To start discussions, sometimes leaders need to go first to show it's OK. Leaders need to start on tasks that no one wants to do. They need to lead by facilitating consensus and uniting the team in a clear direction, as opposed to telling their people the definitive detailed direction. At times they need to ask for help and admit they do not have all the answers. They need to facilitate an environment of trust so their teams feel secure enough to put themselves out of their comfort zones, where their best work will happen.
Leaders need to exhibit these qualities consistently, day after day. For the leader, that means checking their ego at the door, really listening to their team and encouraging team members privately and publicly. They must let others lead, giving advice only when needed so it's supportive, instead of critical advice. Most of all, leaders need to genuinely care about their team.
The most important leadership skills are the ones that are rarely seen but are felt the deepest by individual members. Leadership is more about doing the little things behind the scenes day after day, not just grand gestures. There will be times when all leaders give a rousing speech and set a bold direction. But that should be the exception, not the norm.
Leaders lead, but often from the rear.
Steve Whittington is Managing Director of a boutique digital agency, Graphic Intuitions. He has also served for a over a decade as a member of the Executive Team of Flaman Group of Companies an award winning organization and has over 25 years of executive experience. Steve's current board work includes serving as Chair of the board for Flaman Fitness Canada, a national retailer; President of Glenora Child Care Society; and Co-Chair of the Marketing Program Advisory Committee for NAIT's JR Shaw School of Business. Previous notable board work included, a Director for a meal prep internet Startup Mealife and Chair of Lethbridge Housing authority, the third largest Social housing NGO in Alberta.
Academically, Steve was an instructor of Project Management at Lethbridge College for seven years. Steve holds a Bachelor of Commerce Honours degree; he is a Certified Sales Professional (CSP), Project Management Professional (PMP), Certified Marketing Specialist (CMS) and (CCXP) Certified Customer Experience Professional.
Steve's first book Thriving in the Customer Age – 8 Key Metrics to Transform your Business Results teaches about the customer journey and provides a guiding framework spanning all stages of the customer experience. The book explains how every metric impacts an organization and how leaders can best utilize each metric to provide a stellar customer experience. Everyone knows the customer is the most important part of a business. This book provides the tools to improve an organization's customer experience and drastically transform business results.
Recently Steve's Blog has been profiled as one of the Top 75 Customer Experience blogs