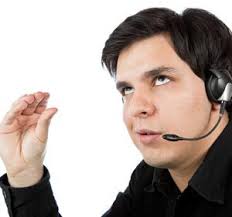 Keep talking…I am not really listening.
I believe business is increasingly tilting toward a winner takes all culture: in other words WITFM (What's in it for me?). This is not about the demands shareholders are putting towards operations for results (although this is part of the problem). It boils down to the individual actions and attitudes of our teams and our customers on the retail floor.

Have you ever heard a team member of your business say: "Customers have no loyalty anymore, they expect the lowest price and will drop you in a second for a deal. They keep demanding more and more for less!" Or on the opposite side, have you or your friends ever said the following about an organization: "They are happy to take your money but when it comes to getting back to you on warranty or answering an email, good luck! Once they have your money they don't care about you anymore!"
Obviously this is not sustainable for business. WITFM on both sides is driving margins down, driving the need (and cost) for advertising up and with lower available income to pay bills, businesses are tightening up and in some cases disappearing.
WITFM is slowing killing our retail economy. This immediate focus of WITFM on the retail floor is creating customers that act in a WITFM way. There is only one way to change this.
The solution is to truly, genuinely care about your customers. To treat everyone like a hero no matter their attitude, all of the time through the entire customer journey. Treat everyone like a hero: what does that mean? Well, the good old 80/20 rule will point to the fact that 80% of your sales come from 20% of your customers. (In the businesses I am involved in, this rule is 90/10.) The point is, those 20% are your hero customers and I bet most businesses know who their heroes are and treat them differently.
So…if you treat all of your customers like heroes (that means dealing with warranty and emails promptly and in a way you would like to be treated), your customers will reciprocate (it is human nature) and act like heroes towards you and your brand.
If you get more heros they will spread the good word about your business, because heroes help. Sales will go up, margins will increase (or at least will not be compressed because heroes understand the value you bring them) and the need for advertising will go down. The best part is that both sides will be happy to see each other.
Imagine how all your relationships could change if you looked to reciprocate genuinely (treat everyone in your life as a hero, the way you would want to be treated) as opposed to thinking about WITFM.
Steve Whittington is Managing Director of a boutique digital agency, Graphic Intuitions. He has also served for a over a decade as a member of the Executive Team of Flaman Group of Companies an award winning organization and has over 25 years of executive experience. Steve's current board work includes serving as Chair of the board for Flaman Fitness Canada, a national retailer; President of Glenora Child Care Society; and Co-Chair of the Marketing Program Advisory Committee for NAIT's JR Shaw School of Business. Previous notable board work included, a Director for a meal prep internet Startup Mealife and Chair of Lethbridge Housing authority, the third largest Social housing NGO in Alberta.
Academically, Steve was an instructor of Project Management at Lethbridge College for seven years. Steve holds a Bachelor of Commerce Honours degree; he is a Certified Sales Professional (CSP), Project Management Professional (PMP), Certified Marketing Specialist (CMS) and (CCXP) Certified Customer Experience Professional.
Steve's first book Thriving in the Customer Age – 8 Key Metrics to Transform your Business Results teaches about the customer journey and provides a guiding framework spanning all stages of the customer experience. The book explains how every metric impacts an organization and how leaders can best utilize each metric to provide a stellar customer experience. Everyone knows the customer is the most important part of a business. This book provides the tools to improve an organization's customer experience and drastically transform business results.
Recently Steve's Blog has been profiled as one of the Top 75 Customer Experience blogs