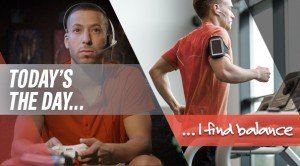 If one were to look at the Flaman Fitness web traffic graph as if it were a line drawing of a mountain range, you would see the traffic line spike like the face of cliff from December 25th to the 26th. Between the 26thand January 2nd the traffic line graph resembles a "high plateau" with January 2ndbeing the second highest traffic point of the year and marking the end of the "high plateau" that is the holiday season. From this high point, the Flaman Fitness web traffic continually erodes until September at which point, with the colder weather around the corner, the web traffic begins its slow climb back to "high holiday plateau." This cycle repeats itself year after year.
With the new year comes many resolutions. I recently read that the #1 resolution for the new year is to lose weight. I also read that only 8% of resolutions are kept. Who gathers this data and keeps score is of course a matter of debate, but let's pretend that the blogger was citing a credible source that uses a statistically relevant population sample. These two "facts" are a bit depressing when combined. Apparently everyone wants to lose weight but only 8% are successful. It has been over thirty days since all these resolutions have been made: I wonder how many have been kept?
With these thoughts in mind, one can grow disheartened by the most likely answer. So at Flaman Fitness we decided to try to change the conversation. Today's the Day is the title of our marketing campaign for 2014/2015. The message is simple: Today's the day to start, not tomorrow, not the next month, not your birthday and not the new year. Start today and, of course, keep going. Our hope is that with this positive message people will start on their fitness journey whenever they can, knowing that any day is a good day to start.
In this spirit, I have been working on a number of content creation goals through the last few months and decided to use around the new year to start some of these goals. (Full disclosure: I did not start either goal in January.) The key is I have committed to starting. So here they are:
1) Blog twice a month
2) Podcast twice a month
As you can tell it is February, and if you look at my blog postings and podcasts I have not blogged twice or created two podcasts in January. The nice thing about Today's the Day, is that I do not have to wait until next year to start on this goal again. I can start on my goals today.
Steve Whittington is President of Roadmap Agency Inc. He has also served for over a decade as a member of the Executive Team of Flaman Group of Companies an award-winning organization and has over 25 years of executive experience. Steve's current board work includes serving as; President of Glenora Child Care Society; and Co-Chair of the Marketing Program Advisory Committee for NAIT's JR Shaw School of Business. Previous notable board work included, Chair of the board for Flaman Fitness Canada, a national retailer, a Director for a meal prep internet Startup Mealife and Chair of Lethbridge Housing authority, the third-largest Social housing NGO in Alberta.
Academically, Steve was an instructor of Project Management at Lethbridge College for seven years. Steve holds a Bachelor of Commerce Honours degree; he is a Certified Sales Professional (CSP), Project Management Professional (PMP), Certified Marketing Specialist (CMS) and (CCXP) Certified Customer Experience Professional.
Steve's first book Thriving in the Customer Age – 8 Key Metrics to Transform your Business Results teaches about the customer journey and provides a guiding framework spanning all stages of the customer experience. The book explains how every metric impacts an organization and how leaders can best utilize each metric to provide a stellar customer experience. Everyone knows the customer is the most important part of a business. This book provides the tools to improve an organization's customer experience and drastically transform business results.
Recently Steve's Blog has been profiled as one of the Top 75 Customer Experience blogs