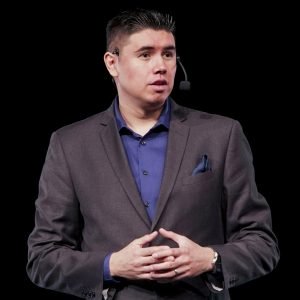 Kendal is one of Canada's top entrepreneurs and motivational speakers who grew up on Sweetgrass First Nation, SK. He was raised single-parented, living on welfare and no opportunity to be involved in after school sports. In grade 5, his best friend from South Africa gave Kendal a helping hand by giving him the opportunity to take part in soccer. He never forgot about what his friend had done for him when he later founded the popular clothing brand, Neechie Gear. A lifestyle apparel brand that empowers youth through sports. A portion of profits help fund underprivileged youth to take part in sports.
After finishing two degrees from the University of Saskatchewan, Kendal grew the brand from a small 1 bedroom apartment to a small kiosk to several pop-up stores and recently opened a new headquarters in Saskatoon, Saskatchewan. The brand is now sold to consumers across North America through other exclusive retail partners and online (www.NeechieGear.com). Kendal recently launched a new company, Netmaker Enterprises with a focus on helping others turn their passion into a business. His services include: motivational talks, seminars, coaching and a growing online academy. Kendal and his company have won numerous provincial, national and International awards. He was recently the runner-up for the YBI Global Entrepreneur of the Year which had taken place in the United Emirates. His entrepreneurial journey has taken him around the globe and has allowed him to speak as far as Russia and Dubai. Aside from running his business, Kendal is on a mission to empower young leaders across Canada by showing people that regardless of where you come from and what you have gone through, you can change it. You can become anything you are willing work hard for.
Have a listen to him sharing his story.
Steve Whittington is President of Roadmap Agency Inc. He has also served for over a decade as a member of the Executive Team of Flaman Group of Companies an award-winning organization and has over 25 years of executive experience. Steve's current board work includes serving as; President of Glenora Child Care Society; and Co-Chair of the Marketing Program Advisory Committee for NAIT's JR Shaw School of Business. Previous notable board work included, Chair of the board for Flaman Fitness Canada, a national retailer, a Director for a meal prep internet Startup Mealife and Chair of Lethbridge Housing authority, the third-largest Social housing NGO in Alberta.
Academically, Steve was an instructor of Project Management at Lethbridge College for seven years. Steve holds a Bachelor of Commerce Honours degree; he is a Certified Sales Professional (CSP), Project Management Professional (PMP), Certified Marketing Specialist (CMS) and (CCXP) Certified Customer Experience Professional.
Steve's first book Thriving in the Customer Age – 8 Key Metrics to Transform your Business Results teaches about the customer journey and provides a guiding framework spanning all stages of the customer experience. The book explains how every metric impacts an organization and how leaders can best utilize each metric to provide a stellar customer experience. Everyone knows the customer is the most important part of a business. This book provides the tools to improve an organization's customer experience and drastically transform business results.
Recently Steve's Blog has been profiled as one of the Top 75 Customer Experience blogs