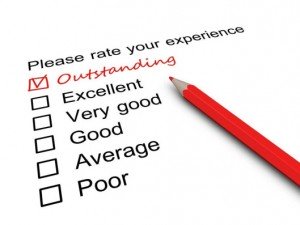 There is more focus on customer experience now than ever before. Interestingly enough, when you read why brands are focusing on the customer experience the reasons given are more excuses or accusations. What we're not seeing are brands aspiring to have a great customer experience because that's what best for their business. Typical reasons given include the following:
Customers have more choice than ever before; they can buy what a brand is selling from anyone.
The Internet has leveled the product knowledge playing field between the brand and the customer. Customers no longer need to be educated by the brand, in most cases the brand is being educated by the customer.
We live in an "on demand" world. Customers can buy anywhere at anytime and shop anywhere at anytime including your competition in your showroom, hence the term "showrooming."
Customers can broadcast their poor experiences and hurt your brand if they have a poor experience.
All of these reasons are valid reasons for a brand to focus on customer experience and unfortunately, most brands look at them as consequences that are forcing them to "work" on their customer experience. Today, in the connected economy, the customer has created a layer of accountability to the brand for their poor treatment of customers.
Another correlation I see is this: the brands that are complaining about our new connected, customer empowered economy are the same brands that never truly focus (and believe) on the most important thing – doing what is best for the customer. In fact, the brands that never focused on this prior and are now being forced to because of customer accountability, will never really get it. A brand needs to honestly believe that their purpose is to do what is best for the customer.
What is doing what is best for the customer?
Doing what is best for the customer doesn't mean selling at a loss.
It is fair pricing and transparency.
Treating the customer with respect.
A deep understanding backed by behavior that your customer is the most important thing for your business and they should be made to feel that way.
It means trusting and empowering your team to do what is best for the customer on the spot, because instant service is what is best.
It means constant improvements on processes to enhance the customer experience.
It means a culture focused on the customer that is protected by the organization as the most important thing.
It is unfortunate that some brands are focusing on customer experience because of the consequences as opposed to really believing that the customer is the most important thing for their organization. Most likely they will always be disappointed in their customer experience and feel it falls short of expectations. Ultimately, your teams need to be motivated for the right reasons.
When it comes to achieving customer success it is about being the right kind of leader and aspiring towards greatness as opposed to just avoiding consequences.
"You do not get someone to run a 4 minute mile by chasing them, by making them run from something; you give them something to run towards."
Steve Whittington is President of Roadmap Agency Inc. He has also served for over a decade as a member of the Executive Team of Flaman Group of Companies an award-winning organization and has over 25 years of executive experience. Steve's current board work includes serving as; President of Glenora Child Care Society; and Co-Chair of the Marketing Program Advisory Committee for NAIT's JR Shaw School of Business. Previous notable board work included, Chair of the board for Flaman Fitness Canada, a national retailer, a Director for a meal prep internet Startup Mealife and Chair of Lethbridge Housing authority, the third-largest Social housing NGO in Alberta.
Academically, Steve was an instructor of Project Management at Lethbridge College for seven years. Steve holds a Bachelor of Commerce Honours degree; he is a Certified Sales Professional (CSP), Project Management Professional (PMP), Certified Marketing Specialist (CMS) and (CCXP) Certified Customer Experience Professional.
Steve's first book Thriving in the Customer Age – 8 Key Metrics to Transform your Business Results teaches about the customer journey and provides a guiding framework spanning all stages of the customer experience. The book explains how every metric impacts an organization and how leaders can best utilize each metric to provide a stellar customer experience. Everyone knows the customer is the most important part of a business. This book provides the tools to improve an organization's customer experience and drastically transform business results.
Recently Steve's Blog has been profiled as one of the Top 75 Customer Experience blogs