In the last ten weeks, trends and patterns have emerged and solidified. In the previous month, I compiled obvious and non-obvious changes and patterns, and of these trends, digitalization of businesses has continued and intensified.
I cheer this ongoing development as it modernizes organizations and creates efficiencies and understanding previously unavailable. With digitalization, an organization's assets are freed up to focus on unique competitive advantages such as product development, service development and creating experiences to retain and delight customers.
As always, I am here to help, and in keeping with the theme above, I have compiled additional resources for consideration that focus on digital transformation.
This month's roundup includes:
What I am currently reading and why
Preparing for your Digital Transformation (seven-minute read)
Adopting to the Next Normal (fifteen-minute read)
My hope is you can use these resources to help you navigate the way forward for your organization.
Stay well,
-Steve
What I am Currently Reading and Why
In keeping with my goal of not reading any "new" books in 2020, I cracked open the crinkled spine of the following books this month. While both are old, one of them is new to me.
Vern Harnish
Vern Harnish has produced a work that the first time through for me was like drinking from a firehose. There is just so much to absorb. It pulled wisdom from so many of the books I have read and put it into an operating system. The scaling up system I have employed in many organizations, and it is a book I reference and read almost daily.
James Clear
I have had this book for a long time and resisted opening the pages not because I did not want to improve or believe that James Clear's message wouldn't be useful, but arrogantly I thought my discipline and habits are pretty sound. Well, I was wrong (side note whenever I have the grace and humility to recognize my arrogance, the immediate conclusion is that I was wrong. Consider that thought when you are creating your customer experience, you may not know best what the experience actually is or should be for your customer.) This book is packed with value, and I am applying the insights immediately in how I show up in this next normal world.
Preparing for your Digital Transformation

Now more than ever, all businesses need to "go" digital and transform their organization's overall experience and processes, no matter if they are retail, manufacturing, professional services, or B2C services, small, medium or enterprise-sized businesses. This article dives into the why and the five areas to consider when making or in the ongoing process of digital transformation.

The five areas are:

1) Your Customers
2) Your Current Tech Stack
3) Creating a Future State Technology Map
4) Your Culture
5) Alignment with a Trusted Advisor

Digital Transformation is a mountain with no top; organizations need to stop looking at digital initiatives as projects but more as strategic competitive assets that require continuous improvement. Read more here

Adopting to the Next Normal

Mckinsey, a global management consultancy, conducts mountains of research and publishes the findings online. This article concerning retail caught my attention. Below are Mckinsey's top five initiatives for retail, but I would be so bold to state that these apply to all organizations. Just remove "store" from initiative three, and the list is generalized for all.

Top Five Initiatives for Adopting to the Next Normal

1) Double down on Digital
2) Inject innovation into the Omnichannel
3) Transform Store Operations and win on "Safe Experience"
4) Reimagine the physical network
5) Embrace an agile operating model

Consider that 40% of the recommended initiatives involve digital. Additional insights pulled for the article: History has proven that customer experience leaders enjoy 3x higher returns than laggards coming out of recessions. Many of the changes occurring in our society are an acceleration of trends. They are now cresting and levelling off (online purchasing is coming down, for instance), but the new levels are expected to be at least double what they were.

Now is not the time to wait and see. Now is the time to "double down."Customer Experience is a journey that is never finished and never too late to start. With the stakes at an all-time high, what is your brand doing? Read more here
---
Downloads Available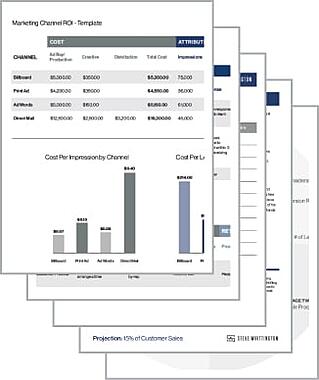 Whether you are looking to map your customer journey, build customer profiles, set goals or conduct marketing channel ROI, check out the expanding set of tools available: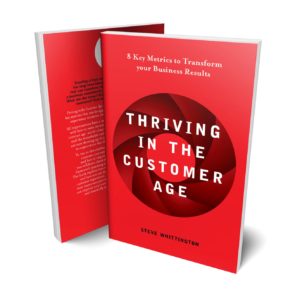 Steve's first book Thriving in the Customer Age – 8 Key Metrics to Transform your Business Results teaches about the customer journey and provides a guiding framework spanning all stages of the customer experience. The book explains how every metric impacts an organization and how leaders can utilize each metric to create continuous improvement in their customer experience. Everyone knows the customer is the most important part of a business. This book provides the tools to improve an organization's customer experience and drastically transform business results.
---
If you are looking to take your customer experience to the next level let's connect!